IT Equipment Relocation Service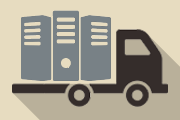 As a value added service, we provide Data Centre and whole Office IT relocation services for SME to large enterprises.
Moving office IT equipment is not as simple as disconnecting and reconnecting your computers, so this aspect of your office relocation should be handled by IT specialists who are familiar with the logistical and technical aspects of IT relocation. We have the expertise to dismantle your IT network and reassemble it safely and securely in the new office.
We establish a company Point of Contact (POC) who we update constantly from the start of the Relocation Project to the very end, so you won't have to be in guessing mode on the move.
Our key strengths and services as follows:
Project Management and coordination with all vendors
Study, Design, Planning, Propose, Schedule and relocation of IT Infrastructure
Network Design and structured cabling
Check-list on key issues such as Network, Telecom, Internet connectivity etc
Disposal and recycling
Documentation and project hand over
Clients are assured with peace of mind, trusting our proven ability, rich experience and project management skills.