Microsoft Cloud Solution Provider (CSP) Program Reseller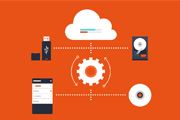 Cloud technology is transforming businesses faster and more pervasively than any other technology in history. Considering the potential growth, RAMMP IT has partnered Microsoft as their Cloud Solution Provider in Singapore.
Cloud computing is the delivery of computing services—including servers, storage, databases, networking, software, analytics and intelligence—over the Internet ("the cloud") to offer faster innovation, flexible resources and economies of scale. You typically pay only for IT services you use, helping you lower your operating costs, run your infrastructure more efficiently and scale as your business grows.
With the latest advancements in cloud technology, the ability to modernize for the future is within easy reach for organizations of all sizes. So why isn't every organization capitalizing on the speed, scalability and economic value of the cloud?
Cloud Solution Provider in Singapore
RAMMP IT believes in providing the best IT solutions to our clients and is a trusted CSP reseller for Microsoft in Singapore. We want our clients to take full advantage of the opportunity in the cloud, through our partnership with Microsoft Cloud Solution Provider Program (CSP).
Why Microsoft Cloud Solution Provider Program (Microsoft CSP)?
Microsoft Cloud Solution Provider (CSP) offers a comprehensive cloud-based platform, allowing organizations to partner with a single provider for all their cloud computing needs. The CSP program enables partners to directly work with and manage the customers' life-cycle.
Moreover, dealing with a single partner allows businesses to leverage consolidated expertise in a single transaction. Partners can easily package their tools, products, and services, and combine them into one monthly or annual customer invoice. Companies who choose to transact in traditional ways tend to be left with the complexity of coordinating multi-vendor management and dealing with a lot of unknowns.
This program helps Microsoft CSP resellers like RAMMP IT to become our customers' trusted advisors. By using the CSP program, we own and manage the end-to-end relationship with our customers.
How does CSP benefit customers?
Customers can easily purchase partner tools, products, and/or services with their subscription in one predictable monthly or yearly invoice. Beyond the inherent benefits of the cloud, customers will have more frequent partner interactions which can serve to deepen the relationship. Market research shows a growing tendency for customers to purchase a wide variety of cloud services from a single vendor and the majority of customers also want an established relationship with a vendor to trust them as their Cloud Service Provider.
As a client, when you partner with us, you gain access to the power and scalability of the Microsoft Azure Cloud, while still getting the personalized service of a company that can take the time to support your team's efforts and ensure your success.
As a Microsoft Cloud Service Program Provider reseller we can:
Help you reduce expenses and eliminate overlapping services by designing a Public or Hybrid Cloud solution – all in a single transaction.
Improve efficiency with Public Cloud and IT services coordinated by a single provider who understands your business's needs.
Increase productivity with solutions customized to your requirements and the rapid deployment and reduced learning curve that comes with Microsoft Azure.
Allow you to retain control of what you want to control, and hands-off administration aspects that are either out of your scope or for which you simply don't have time for.
Offer superior support with proactive management and monitoring to minimize downtime and delays.
The result is more power for your systems, processes and applications without the confusion or hassle of trying to coordinate multiple Cloud solutions with multiple providers, and a support team that will never let you down. Working with a Microsoft CSP partner means you'll get exactly the solutions you need, customized to your team's requirements.
RAMMP IT Solutions is a reseller of "rhipe Singapore", "Crayon Ptd Ltd" and "Pax8".
We being a Cloud Solution Provider indirect reseller, have the experience of working with our clients in the implementation and managing our Clients' cloud solutions and migration.
Solutions offered as part of the Microsoft Cloud Solution Provider Program as follows:
Office 365
Microsoft Azure
Microsoft Dynamics
Microsoft Enterprise + Security
Windows Enterprise
If you'd like more information on Microsoft Azure, Microsoft 365, OR any other managed services, we'd be happy to help. Get in touch with us. Call us on our Sales Hotline: 6908 0668 OR Contact Us.